Love the Randall MTS system. Only stumbled upon it about 12 months ago and since that time I've gone on an acquisition frenzy along with modifying to suit my tastes and needs almost every module I've got.
In doing my mods, my focus has been on pursuing tone and feel that makes me want to play and write more. The magic of MTS is I can plug a new module in and get a whole new palette of inspiration.
Today I finished the last piece in the puzzle. A clean module I've named "The Cleaner". I used a Blackface as the donor but a lot has been changed over the last 5-6 months I've had it in development. It was good to finally get it to stage I'm really happy with it. It ticks all of the boxes on my clean module wish list:
- super clean to warmly distorted with the twist of the gain knob;
- boosted and gritty with the flick of the grime switch - clean with a light touch but gritty if you dig the pick in;
- two tone stacks on a push-pull mid knob (the "fat" switch) to give me the optimum adjustment range/tone stack for humbuckers and single coils;
- a tighter, more focused voicing option on the push-pull gain knob (the "scrub" switch) for blues lead breaks.
It's funny, I thought I had it dialed about 2 months ago. Then I built a super high-gain module inspired by what I liked most about the soldano/5150 and what I disliked most about the Mesa Rectos. A lot of lessons learned on structuring those gain stages and the tone stacks then made it back into the clean module (but none of the values)!
Anyway,
more info on "The Cleaner" mod is available here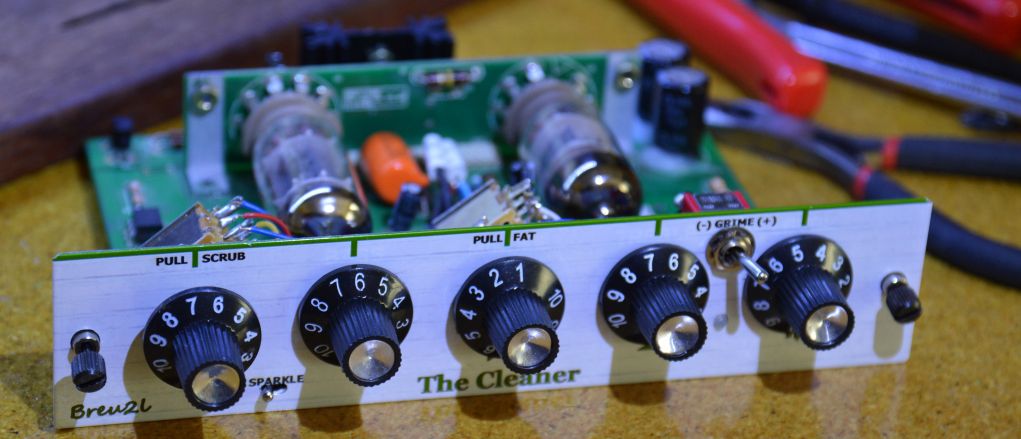 Hopefully this'll keep you fellow DIY guys fired up...